By Bill Hearst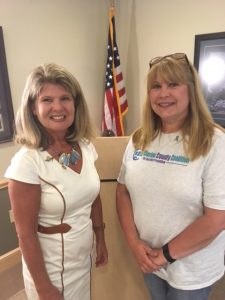 Janet Mangel, from the Coalition for Suicide Prevention Program, was the guest of Clarion Rotary at their July 10th meeting. Janet presented information about the coalition and suicide prevention programs here in Clarion County.
Pictured are Clarion Rotary President Jamie Lefever and Janet Mangel.
The Clarion County Coalition for Suicide Prevention is holding its second annual suicide awareness walk on Thursday, September 14, 2017 at the Clarion Veterans Memorial Park, Downtown Clarion. This is being held during National Suicide Prevention Week. Registration will begin at 5:30pm and the walk at 6:30pm. The walk will extend from the Clarion Veterans Memorial Park up Main Street, into the College and back down Main Street to end at the Park. A vigil will follow to remember all of those who are affected by suicide. Walk forms are available at Clarion Suicide Awareness.com or the C93 Radio Offices.
Read More: C93 Radio